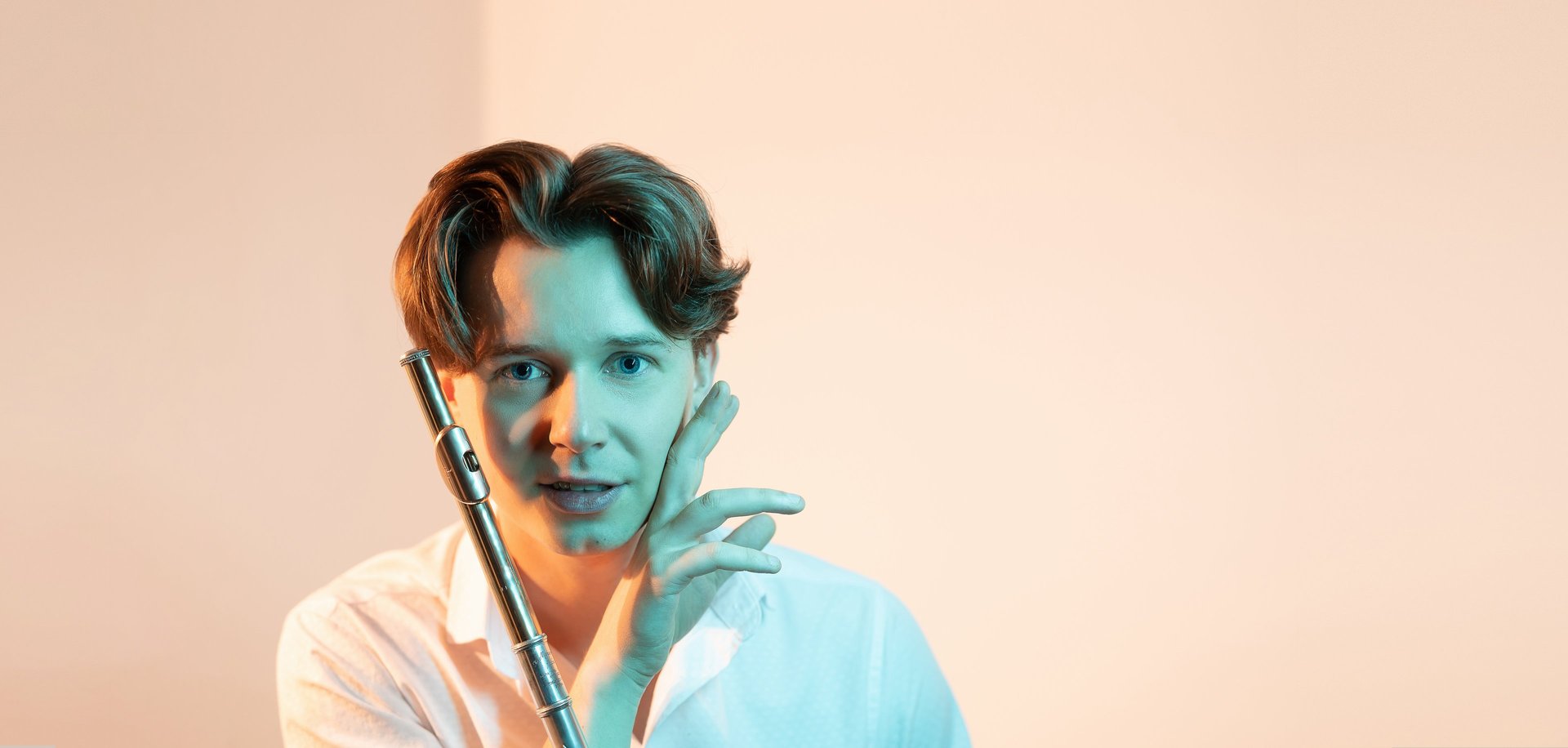 unshakable optimist devoted to the idea of​ creating human relations through the beauty of music.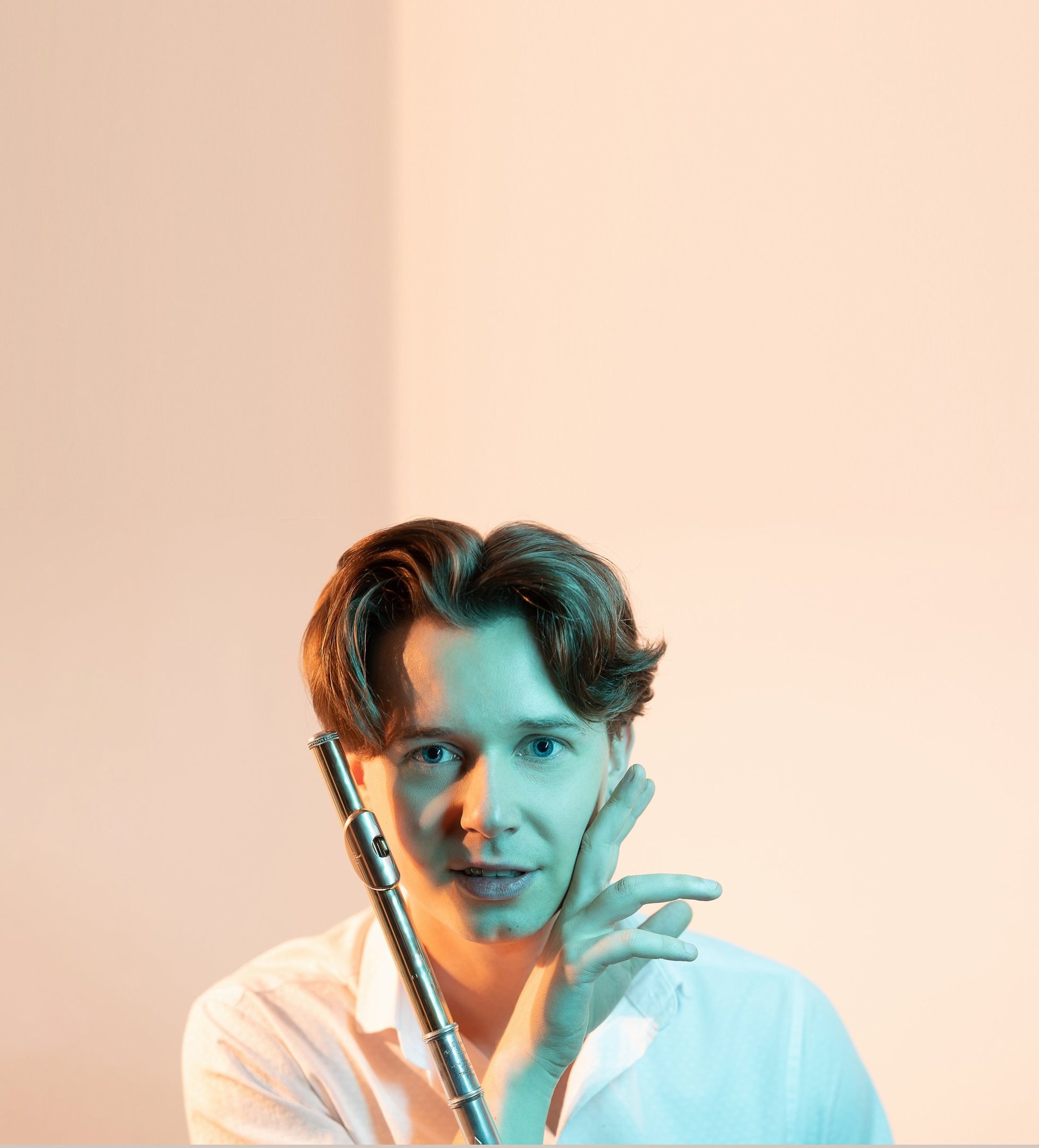 HEY! I'M KACPER
unshakable optimist devoted to the idea of​ creating human relations through the beauty of music.
BIO
Polish flutist raised in a musical family. Known to the wide public by his dynamic interpretations. He treats the sense of music in a multi-context dimension as a challenge to search for reliable knowledge combined with artistic personality. He studied flute performance at the Karol Szymanowski Academy of Music in Katowice (Poland) with Dr. Lukas Zimnik. In 2021 he graduated the Hochschule für Musik in Freiburg (Germany) where he studied with Prof. Dr. Mario Caroli. His career was highly influenced by Dr. hab. Agata Igras, professor of Warsaw University of Music. Currently, a PhD student at the European Doctoral College (Hochschule für Musik Freiburg, Haute école des arts du Rhin, University of Strasbourg), led by Prof. Dr Ludwig Holtmeier and Prof. Silvia Careddu. In 2018-2019 he was first flutist of the Wojciech Kilar Polish Philharmonic "Sinfonia Baltica" in Słupsk. As an active musician, he cooperates with renowned orchestras such as the Freiburg Philharmonic Orchestra, Meininger Hofkapelle, Santander Orchestra, Camerata Vocale Freiburg, National Chamber Orchestra of Armenia, Sinfonietta Cracovia, Polish Chamber Philharmonic. In 2022 he was solo flutist of the Korean National Symphony Orchestra Academy in Seoul (South Korea).
His interest in historical performance practice is reflected in his collaboration with the INSOMMA ensemble, of which he is a co-founder. He performed at the Krzysztof Penderecki Festival "Emanacje" together with musicians from the Berlin Philharmonic as part of the Summer Academy of Music. Laureate of many music competitions, including: 1st prize and title "Ten of the best" in 10th International Music Competition and Festival "Svirel" (Slovenia 2018), 2nd prize in 2nd International Competition of Wind instruments "Finalis" (Poland 2017), the Special Jury Mention in Leopold Bellan International Music Competition in chamber music category (France 2020), finalist of the International Dutch Flute Competition (Netherlands 2021), semifinalist of International Flute Competition CLUJ (Romenia 2021), participant of the International Flute Competition Guangzhou [Nicolet International Flute Competition] (China and Swizzerland 2022).
His last album "BACH - INSOMMA" was released in the summer of 2020. As a publicist, he collaborates with music magazines, among others with "Laboratorium Muzycznych Fuzji" where he publishes album reviews. His activity in contemporary music field is expressed in cooperation with Polish composers of the young generation who have dedicated some of their works to him. Thanks to music, he combines his passions of traveler and culture explorer, which is reflected in his many international tournées.